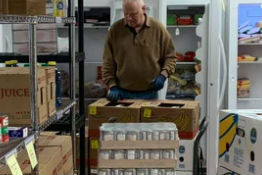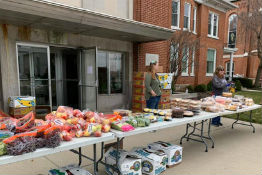 St. Paul's Food Pantry
We are open every Tuesday from 1:30 - 3:30 p.m. with a lunch for the Community at 1 p.m.
To go through and use the Food Pantry, all you need to do is bring a photo id and they will
get an account set up for you and give you a number to get in line.
The mission of St. Paul's Food Pantry is to demonstrate the love of Jesus Christ by serving those who request our aassistance with their nutritional and spiritual needs.
The Pantry attempts to accomplish this goal by the following means:
* Serve those with kindness, respect, confidentiality, and dignity in a clean, safe, and organized environment.
* Strive to maintain a sufficient supply of safe and healthy foods to meet the needs of those who enter here.
* Provide programs that promote the value of nutrition.
* Provide a nutritional meal prior to the Food Pantry experience.
* Attempt to assist those who come to us in any other way possible.
Many volunteers are needed to help collect and distribute food.
Contact
Marie Ferree
for questions regarding the food pantry!